Calgary Marathon Charity Challenge: May 28
January 9, 2023 > Events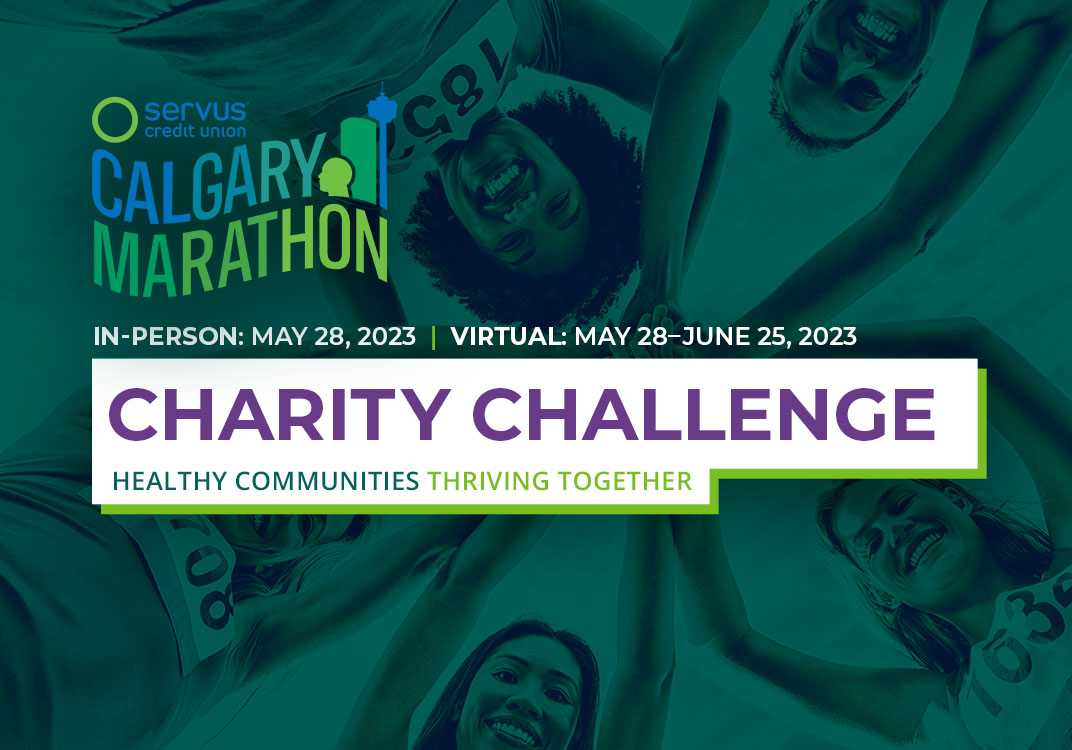 ARBI is excited to participate again in the 2023 Charity Challenge! We are gathering teams of passionate supporters to run, walk and roll (wheelchairs and strollers included!) to raise funds and awareness for brain injury and stroke rehabilitation.
The Servus Calgary Marathon can be whatever you want it to be—challenging, competitive, or fun—maybe even all three! Each race is designed for every age and ability, from the 5KM family-friendly event to the challenging 50KM Ultra. The Charity Challenge is an integral part of this event and unites the spirit of all participants in a unique opportunity to fundraise for their charity of choice and contribute to Healthy Communities Thriving Together.
We have a big goal this year to raise $70,000 for a new rehab device, an Xcite2 iFES. Integrated functional electrical stimulation (iFES) works by stimulating active muscle contractions in sequence with pre-programmed functional tasks to improve mobility and relearn daily tasks such as eating or grooming. It promotes recovery of the nervous system and strengthens hand, arm, leg, and core muscles that have experienced neurological weakness or paralysis due to brain injury. The addition of the Xcite2 would enhance our rehabilitation program for years to come.
Healthy Communities Thriving Together.
Join Team ARBI or create your own team (friends, family, or co-workers) to run for ARBI. You don't have to be an athlete to join. In fact, most of Team ARBI participates in the 5KM event starting at noon on May 28th. All you need is a passion for helping brain injury and stroke survivors get back to being part of the community again, because that's what unites us as a team and carries us all over the finish line—Healthy Communities Thriving Together.
To join the race, simply register for an in-person or virtual distance of your choice; then start preparing to run, walk or roll in support of brain injury and stroke survivors.
Registering for the Servus Calgary Marathon
To join Team ARBI:
Select the race you would like to participate in (e.g., 5KM, 10KM, 42.2KM or 50KM Ultra)
Under the Teams section, select "Yes, add this registrant to a corporate or charity team created by someone else"
Under Team Category, select "Fundraising Team – Charity Challenge"
Select "Team ARBI"

To create a new fundraising team:
Select the race you would like to participate in (e.g., 5KM, 10KM, 42.2KM or 50KM Ultra)
Under the Charity Teams section, select "Yes, create a new team and add this registrant"
Enter your team name
Select "ARBI (Association for the Rehabilitation of the Brain Injured)" as the preferred fundraising organization for the team